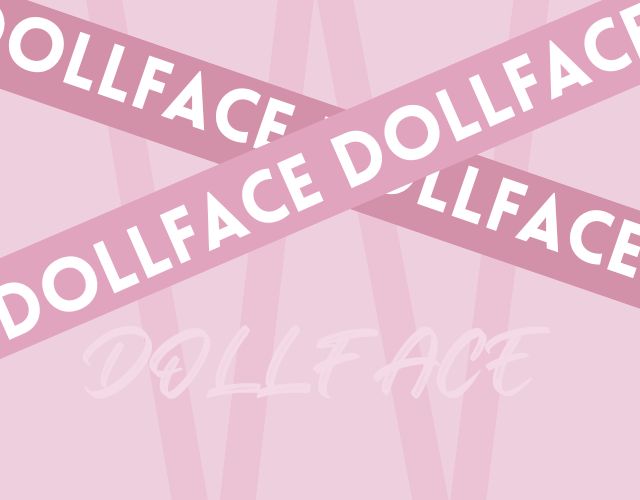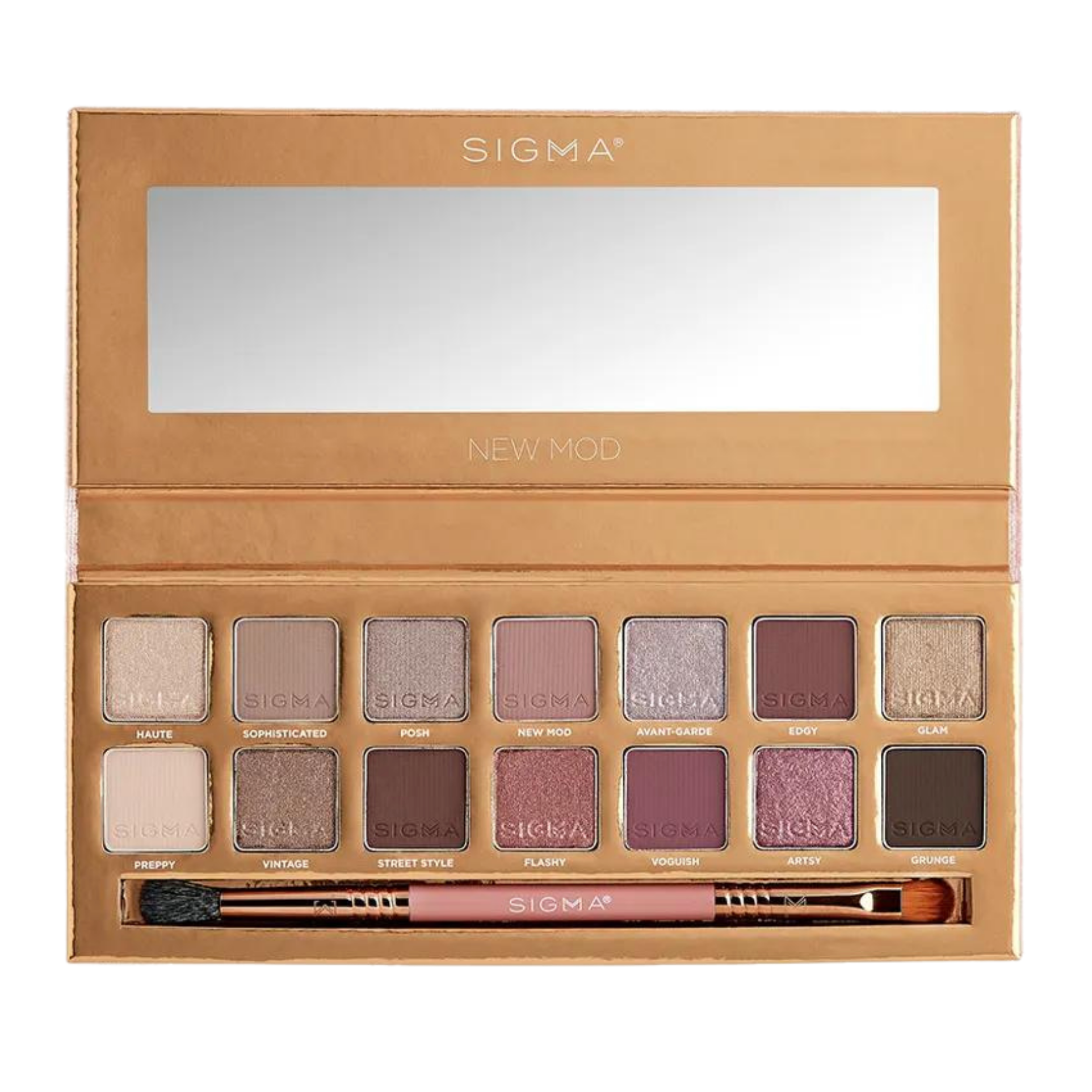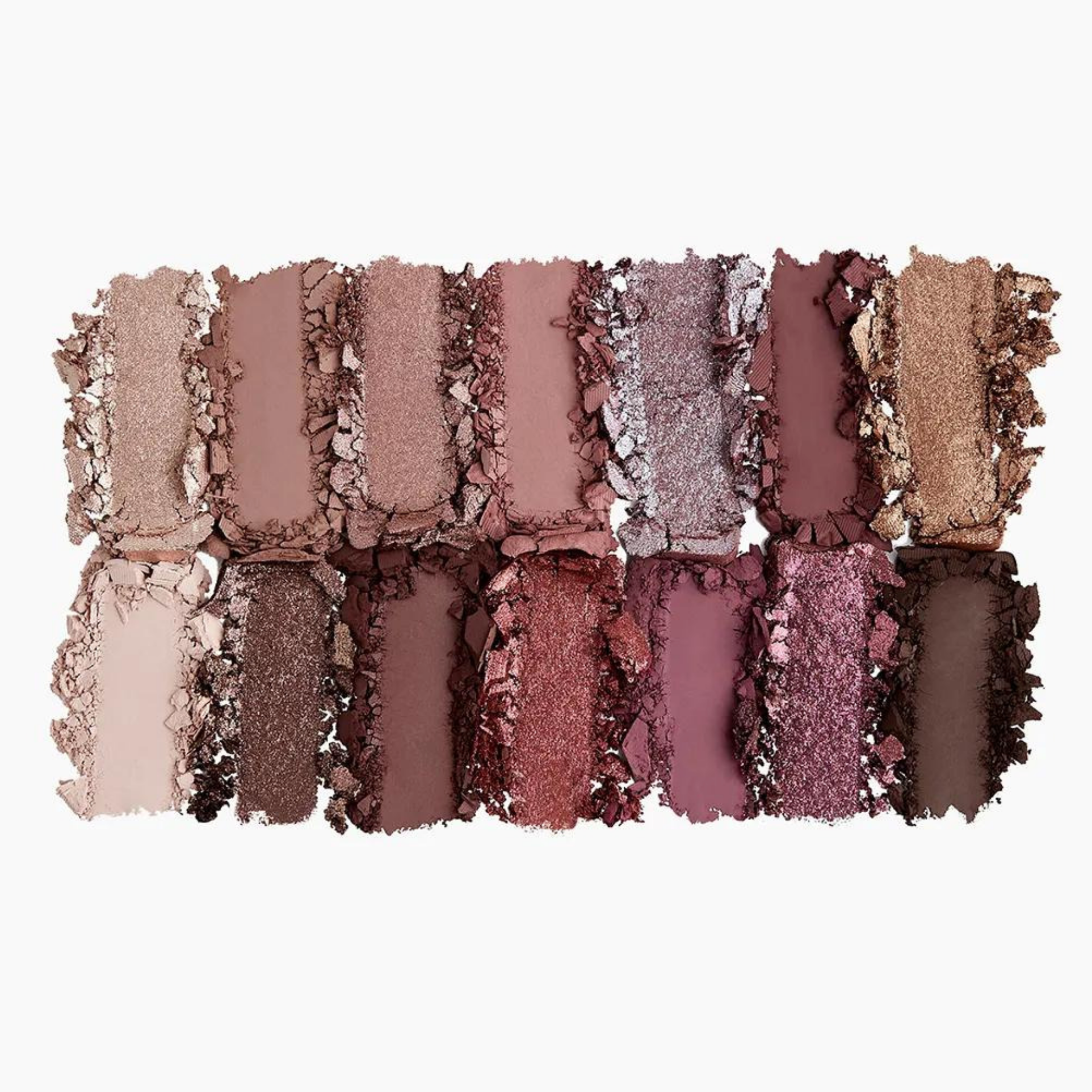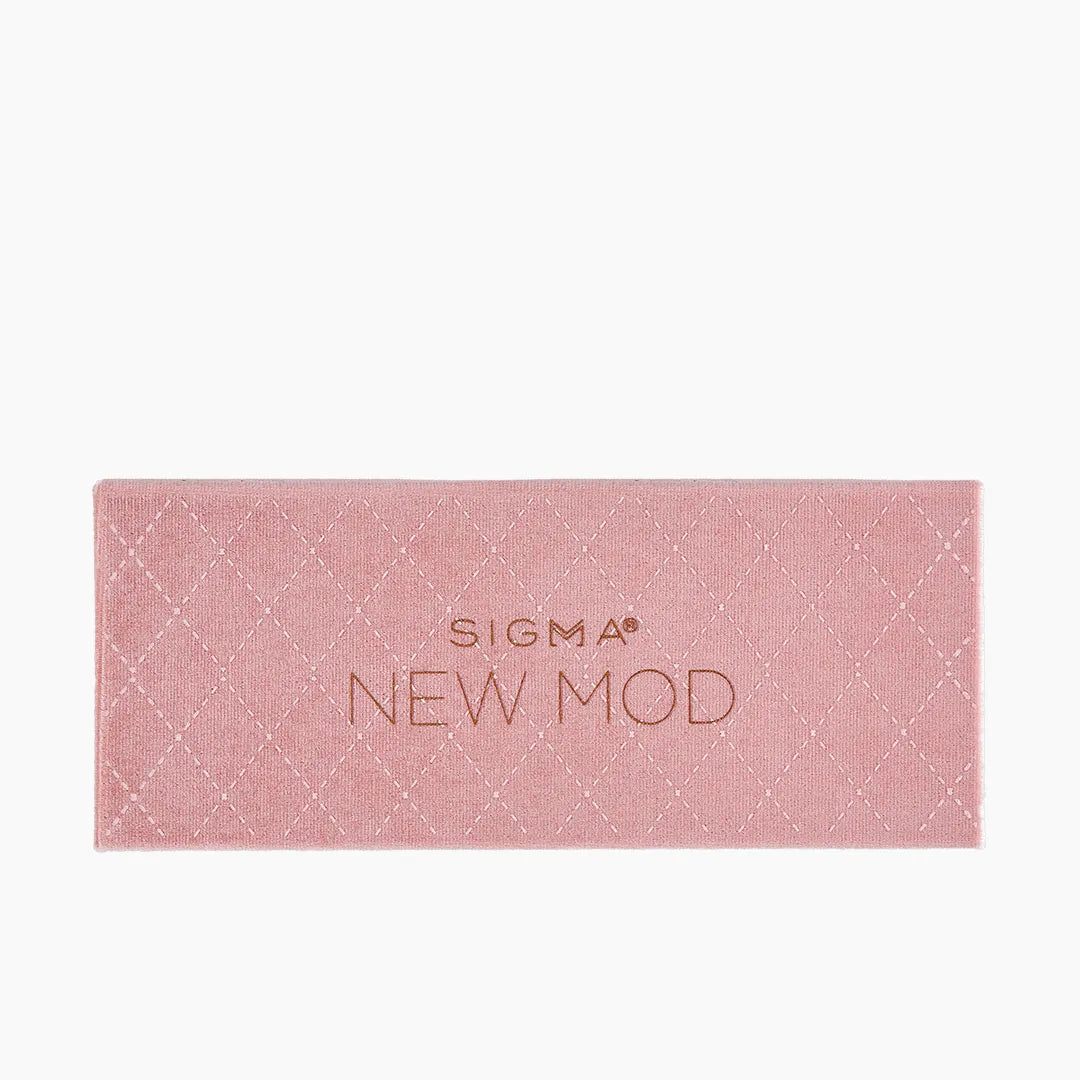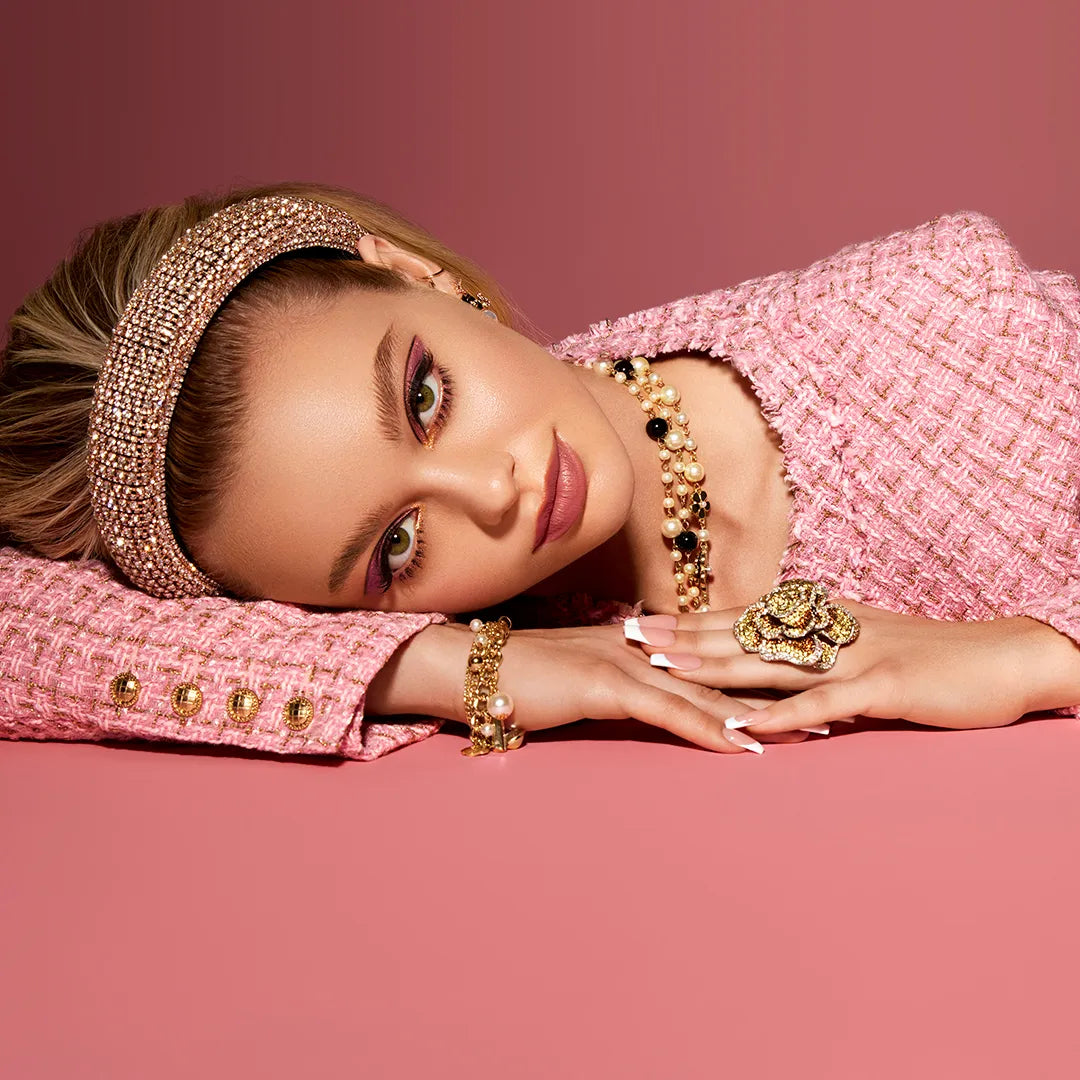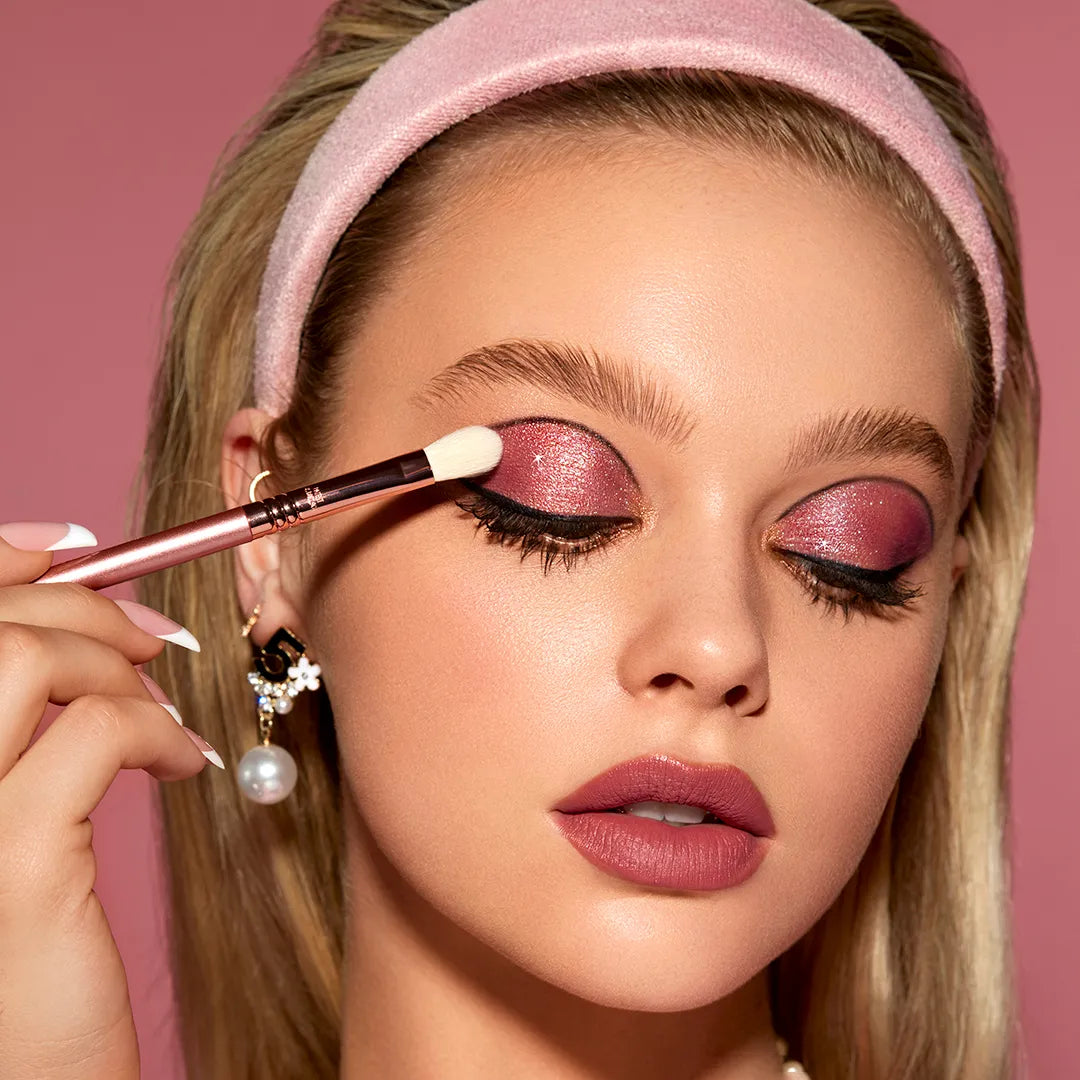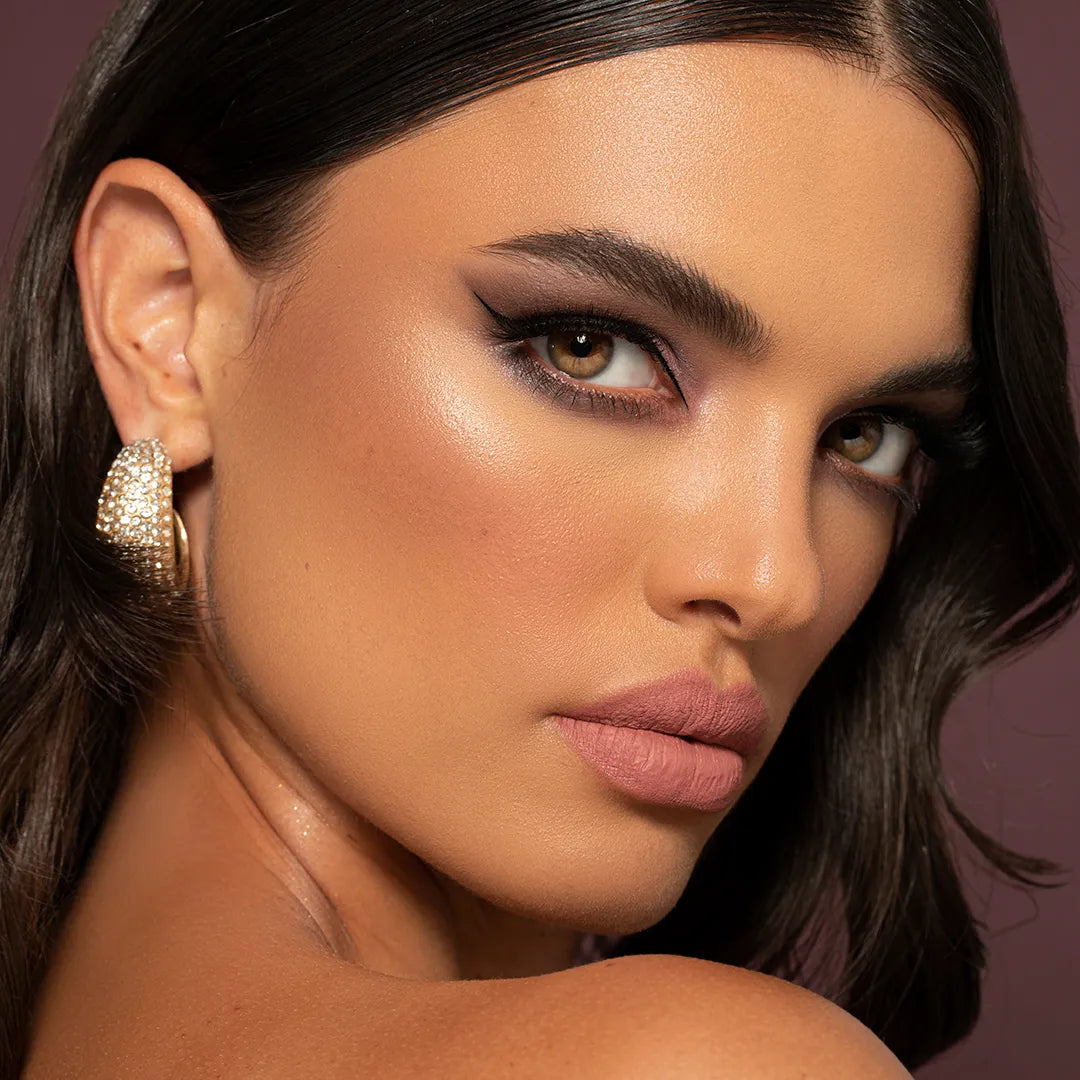 Sigma Beauty New Mod Eyeshadow Palette 208.2g
Dress your eyes to the nines
...with this à la mode array of matte, shimmer and metallic shades in silky smooth formulas from Sigma.
Designed with the modern beauty lover in mind, New Mod encourages you to think as a trendsetter and stay ahead of the game. No matter your style, this versatile eyeshadow palette and dual-ended brush will help you create eye looks that kill.
⭐️ 14 x Eyeshadow shades:

Haute - Elegant champagne metallic
Sophisticated - Warm bisque matte
Posh - Warm gold metallic
New Mod - Nude mauve matte
Avant-garde - Light pink with aquamarine shimmer
Edgy - Dark sienna-red matte
Glam - Timeless gold metallic
Preppy - Ivory pink matte
Vintage - Antique bronze shimmer
Street Style - Urban brick-red matte
Flashy - Deep pink shimmer
Voguish - Muted magenta matte
Artsy - Light eggplant shimmer
Grunge - Smokey deep-brown matte



⭐️ 1 x Dual-Ended Brush Included:

E38 Diffused Crease™ - Soften + blend harsh color lines
E54 Medium Sweeper™ - Pack + blend colors across entire lid
Using the dual-ended brush that comes with the eyeshadow palette or your favorite Sigma Beauty eye brush, apply and blend the eyeshadow shade(s) of your choice onto your eyelids.
SOPHISTICATED, EDGY, STREET STYLE, VOGUISH, GRUNGE: MICA, SILICA, MAGNESIUM STEARATE, CAPRYLIC/CAPRIC TRIGLYCERIDE, HYDROGENATED POLYISOBUTENE; BIS-DIGLYCERYL POLYACYLADIPATE-2, CAPRYLYL GLYCOL, HYDROXYACETOPHENONE, OCTYLDODECYL STEAROYL STEARATE, TOCOPHERYL ACETATE, [+/ -: IRON OXIDES (CI 77491), IRON OXIDES (CI 77492), TITANIUM DIOXIDE (CI 77891), MANGANESE VIOLET (CI 77742), BLUE 1 LAKE (CI 42090), YELLOW 5 LAKE (CI 19140), IRON OXIDES (CI 77499), ULTRAMARINES (CI 77007)]
POSH: MICA, MAGNESIUM STEARATE, SILICA, CAPRYLIC/CAPRIC TRIGLYCERIDE, HYDROGENATED POLYISOBUTENE, OCTYLDODECYL STEAROYL STEARATE, BIS-DIGLYCERYL POLYACYLADIPATE-2; CAPRYLYL GLYCOL, HYDROXYACETOPHENONE, TIN OXIDE, TOCOPHERYL ACETATE, [+/ -: TITANIUM DIOXIDE (CI 77891), IRON OXIDES (CI 77491), MANGANESE VIOLET (CI 77742), IRON OXIDES (CI 77492), BLUE 1 LAKE (CI 42090), YELLOW 5 LAKE (CI 19140)]
NEW MOD: MICA, MAGNESIUM STEARATE, SILICA, CAPRYLIC/CAPRIC TRIGLYCERIDE, HYDROGENATED POLYISOBUTENE; BIS-DIGLYCERYL POLYACYLADIPATE-2, CAPRYLYL GLYCOL, HYDROXYACETOPHENONE, OCTYLDODECYL STEAROYL STEARATE, TOCOPHERYL ACETATE, [+/ -: MANGANESE VIOLET (CI 77742), IRON OXIDES (CI 77491), TITANIUM DIOXIDE (CI 77891), IRON OXIDES (CI 77492), BLUE 1 LAKE (CI 42090), YELLOW 5 LAKE (CI 19140)]
PREPPY: MICA, SILICA, MAGNESIUM STEARATE, CAPRYLIC/CAPRIC TRIGLYCERIDE, HYDROGENATED POLYISOBUTENE, OCTYLDODECYL STEAROYL STEARATE; BIS-DIGLYCERYL POLYACYLADIPATE-2, CAPRYLYL GLYCOL, HYDROXYACETOPHENONE, TOCOPHERYL ACETATE, [+/ -: TITANIUM DIOXIDE (CI 77891), IRON OXIDES (CI 77491), IRON OXIDES (CI 77492), MANGANESE VIOLET (CI 77742), BLUE 1 LAKE (CI 42090), YELLOW 5 LAKE (CI 19140)]
HAUTE, GLAM: MICA, CAPRYLIC/CAPRIC TRIGLYCERIDE, SILICA, TRIETHYLHEXANOIN, MAGNESIUM STEARATE; CAPRYLYL GLYCOL, HYDROXYACETOPHENONE, ISODODECANE, TIN OXIDE, TOCOPHERYL ACETATE, VP/HEXADECENE COPOLYMER, [+/ -: TITANIUM DIOXIDE (CI 77891), IRON OXIDES (CI 77491), BLUE 1 LAKE (CI 42090), YELLOW 5 LAKE (CI 19140), IRON OXIDES (CI 77492)]
AVANT-GARDE: CALCIUM SODIUM BOROSILICATE, MICA, CAPRYLIC/CAPRIC TRIGLYCERIDE, SYNTHETIC FLUORPHLOGOPITE, MAGNESIUM STEARATE, SILICA, TRIETHYLHEXANOIN; CAPRYLYL GLYCOL, HYDROXYACETOPHENONE, ISODODECANE, TIN OXIDE, TOCOPHERYL ACETATE, VP/HEXADECENE COPOLYMER, [+/ -: TITANIUM DIOXIDE (CI 77891), IRON OXIDES (CI 77491), MANGANESE VIOLET (CI 77742), IRON OXIDES (CI 77492), BLUE 1 LAKE (CI 42090), YELLOW 5 LAKE (CI 19140)]
VINTAGE, FLASHY: MICA, CAPRYLIC/CAPRIC TRIGLYCERIDE, CALCIUM SODIUM BOROSILICATE, SYNTHETIC FLUORPHLOGOPITE, SILICA, TRIETHYLHEXANOIN, MAGNESIUM STEARATE; CAPRYLYL GLYCOL, HYDROXYACETOPHENONE, ISODODECANE, TIN OXIDE, TOCOPHERYL ACETATE, VP/HEXADECENE COPOLYMER, [+/ -: IRON OXIDES (CI 77491), TITANIUM DIOXIDE (CI 77891), IRON OXIDES (CI 77499), BLUE 1 LAKE (CI 42090), YELLOW 5 LAKE (CI 19140)]
ARTSY: CALCIUM SODIUM BOROSILICATE, MICA, CAPRYLIC/CAPRIC TRIGLYCERIDE, SILICA, TRIETHYLHEXANOIN, MAGNESIUM STEARATE; CAPRYLYL GLYCOL, HYDROXYACETOPHENONE, ISODODECANE, TIN OXIDE, TOCOPHERYL ACETATE, VP/HEXADECENE COPOLYMER, [+/ -: TITANIUM DIOXIDE (CI 77891), IRON OXIDES (CI 77491), IRON OXIDES (CI 77499), IRON OXIDES (CI 77492), BLUE 1 LAKE (CI 42090), YELLOW 5 LAKE (CI 19140)]

Sigma Clean Beauty products are formulated without:
Acetone; Acetonitrile; *Acrylamide, Polyacrylamide; Acrylates: Butyl methacrylate, Ethyl acrylate, Ethyl methacrylate, Hydroxypropyl methacrylate, Methyl methacrylate, Retinal acrylates, Tetrahydrofurfuryl methacrylate, Trimethylolpropane trimethacrylate; Benzoisothiazolinone; Hydroquinone; Latex; Methylene chloride, DCM or dichloromethane; Mineral oil, petroleum jelly, paraffin, paraffin oil, paraffin wax, vaseline, white petrolatum, or petrolatum; Resorcinol; Retinyl palmitate or retinol (vitamin A); Synthetic flavors; Synthetic fragrances or parfum; *Talc; Animal oils/musks/fats; *Beeswax; Benzene; Benzyl alcohol; Beta hydroxy acid (BHA); Bisphenol (BPA); Butoxyethanol; Casein; Chemical Sunscreens: Avobenzone, Benzophenone + derivatives, Octinoxate, Oxybenzone; Cadmium; Carbon Black; *Carmine; Coal Tar; Cyclic Silicones: Cyclotetrasiloxane or octamethylcyclotetrasiloxane (D4), *Cyclopentasiloxane or decamethylcyclopentasiloxane (D5), Cyclohexasiloxane (D6), Cyclomethicone; Ethanolamine (ETA) Compounds: DEA-cetyl phosphate, DEA oleth-3 phosphate, Diethanolamine (DEA), Cocamide, Cocamide DEA, Cocamide MEA, Lauramide DEA, Linoleamide MEA, Monoethanolamine (MEA), Myristamide DEA, Oleamide DEA, Stearamide Monoethanolamine (MEA), *Triethanolamine (TEA), TEA-lauryl sulfate; *Ethylenediaminetetraacetic acid (EDTA); Acetaldehyde; Stearyl Glycyrrhetinate; Genetically modified organisms (GMO); *Glyceryl stearate; *Isopropyl myristate; Lanolin; Lead + lead acetate; Lecithin; Mercury + mercury compounds (Thimerosal); Methylcellosolve + methyloxyethanol; Nanomaterials or nanoparticles: Fullerenes, Micronized zinc oxide, Nano zinc oxide (Nano ZnO), Nano titanium oxide (Nano TiO2), Micronized titanium oxide, Micronized quartz silica; *Palmitic acid; *Panthenol; Perfluorooctanic acid (PFOA): Polytetrafluoroethylene (PTFE), Polyperfluoromethylisopropyl Ether, DEA-C8-18, Perfluoroalkylethyl Phosphate, Teflon; Phthalates; *Polyethylene; Polyethylene glycol (PEG) + PEG Compounds: *All PEGS, 1,4 Dioxane; Polypropylene glycol (PPG); Butylated hydroxyanisole (BHA); *Butylated hydroxytoluene (BHT); Formaldehyde, formaldehyde donors, or formaldehyde-releasing agents; Methylchloroisothiazolinone or methylisothiazolinone; Parabens: Isobutylparaben, butylparaben, methylparaben, propylparaben; *Phenoxyethanol; Quaternium-15, benzalkonium chloride, benzethonium chloride; Triclosan (TSC), triclocarban (TCC); *Propylene glycol + derivatives; Squalane; Squalene; *Stearic acid; Styrenes: Bromostyrene, *DEA-Styrene/Acrylates/Divinylbenzene Copolymer, *Sodium styrene/divinylbenzene copolymer, Styrene, Styrene Oxide; Sulfates + sulfate-based detergents: Ammonium laureth sulfate, Ammonium lauryl sulfate, Selenium sulfide, Sodium laureth sulfate (SLES), Sodium lauryl sulfate (SLS); Toluene
Share