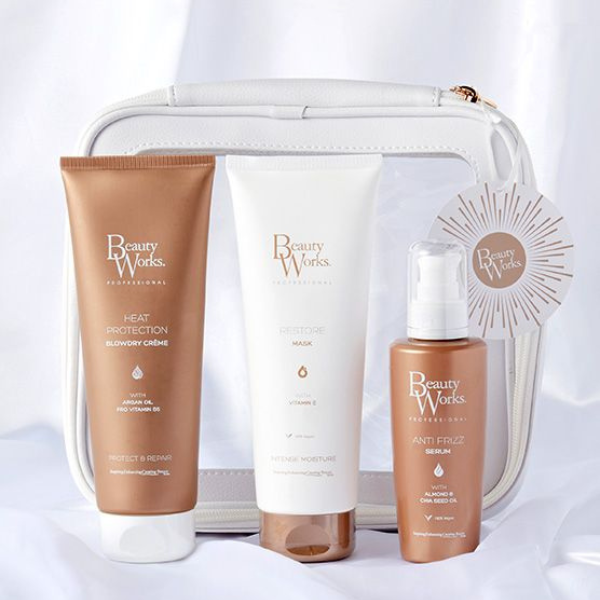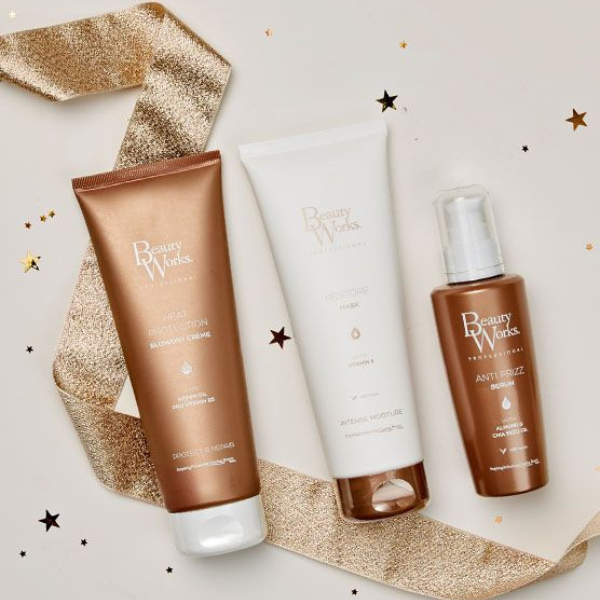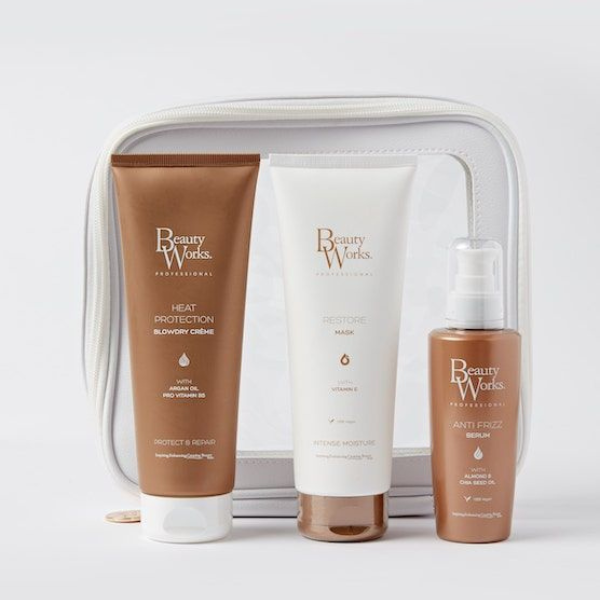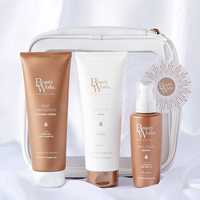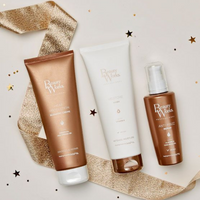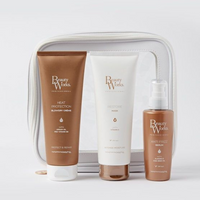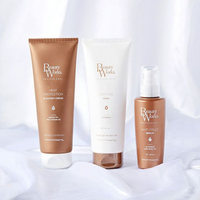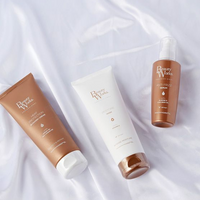 Beauty Works Restore & Replenish Gift Set
Your 3-step routine to softer, shinier and healthier hair has landed
Discover the secret to silky smooth strands with this haircare heroes gift set from Beauty Works, formulated to restore and replenish your locks.
This limited edition kit features 3 of Beauty Work's bestselling haircare formulas in one kit, to provide an intense hair therapy to revive dry, damaged hair and enhance your styling experience, for healthier, smoother locks.
 Start with the Restore Mask, a restorative hair mask designed to deeply nourish tired hair and combat breakage. Next, style strands with the Heat Protection Blowdry Crème, adding volume whilst creating a protective barrier against heat damage for visibility healthier hair. Finally, finish with the Anti-Frizz Serum, sealing the cuticle and eliminate frizz for enviably silky locks.
⭐️ Beauty Works Restore Mask 250ml

Formulated to replenish dry and dehydrated strands, our intense moisture mask offers a 10-minute hair therapy. Containing key ingredients to help improve the elasticity and strength of the hair. This 100% vegan, reconstructive hair mask coats the hair with added Vitamin E. Packed with antioxidants and ceramide which is key for strengthening strands and protecting the cuticle. Infused with a refreshing scent and natural sesame seed oil, a powerful antioxidant enriched with vitamins and minerals, that promote hair growth and combat dryness and breakage. Restore dry and damaged hair that is regularly styled with heat or treated with chemicals for softer, smoother strands.




⭐️ Beauty Works Heat Protection Blowdry Crème 250ml

Our lightweight crème formula coats strands to protect against heat damage. An essential for users that style with heated tools, adding bounce to your blow dry and volume to limp locks without weighing the hair down. Make hair more manageable and enhance shine, for smooth, silky results. Formulated with argan oil and pro vitamin B5, this miracle crème is enriched with essential antioxidants to keep your hair safe from styling, while deeply nourishing hair for an overall healthier appearance.




⭐️ Beauty Works Anti-Frizz Serum 150ml

A weightless hair serum that works to eliminate frizz and add shine without weighing down strands. Infused with hydrating almond oil and chia seed oil that contracts frizz and coats the cuticle, giving hair incredible softness and shine. Add into your daily hair care routine and apply to wet or dry hair to control frizz. Alternatively use as a finishing product to revive and leave hair feeling nourished. Perfect for styling through beach waves or bouncy curls to enhance texture, tame flyaways and create a high gloss finish.
1 x Beauty Works Restore Mask 250ml

1 x Beauty Works Heat Protection Blowdry Crème 250ml

1 x Beauty Works Anti-Frizz Serum 150ml
Restore Mask 250ml:
Aqua[Water], Cetearylalcohol, Propyleneglycol, Behentrimoniumchloride, Cetylesters, Glycerylstearate, Paraffin, Amodimethicone, Phenyltrimethicone, Sesamumindicum(Sesame)Seed Oil, Coperniciaceriferacera[Coperniciacerifera(Carnauba)wax] ,Glycerin ,Parfum[Fragrance], Phenoxyethanol, Euphorbiaceriferacera[Euphorbiacerifera(Candelilla)wax], PEG-40/PPG-8methylaminopropyl/Hydroxypropyldimethiconecopolymer, Lacticacid, PEG-8, Cetrimoniumchloride, Trideceth-10, Dipropyleneglycol, Hexylcinnamal, HydrolyzedVerbascumThapsusFlower, Hydrolyzedchestnutextract, Hydrolyzedwalnutextract, Linalool, PEG-8/SMDIcopolymer, Palmitoylmyristylserinate, Sodiumpolyacrylate, Citric Acid, Methylchloroisothiazolinone, Methylisothiazolinone, Sodiumbenzoate, Potassiumsorbate.


Heat Protection Blowdry Crème 250ml:
Aqua[Water],Myristylalcohol,Dimethicone/mercaptopropylmethiconecopolymer,Phenyltrimethicone,Cetrimoniumchloride,Phenoxyethanol,Parfum[Fragrance],Arganiaspinosakerneloil,Arganiaspinosakerneloil,Ethylhexylglycerin,Triethanolamine,Cocotrimoniummethosulfate,Geraniol,Linalool,Hexylcinnamal,Limonene,Hydroxypropylguar,Polyquaternium-68,PPG-15stearylether,Dimethicone,Panthenol


Anti-Frizz Serum 150ml:
Prunus amygdalus dulcis (Sweet almond) oil, Tripelargonin, Silybum marianum ethyl ester, Salvia hispanica seed oil, Parfum [Fragrance], Coumarin, Anise alcohol, Linalool.